Digital Development Center™
Get 3D printed parts for prototype, tooling, and production.
Get a Quote
Intro to HP MJF 3D Printing Webinar
Learn the basics of Multi Jet Fusion 3D printing so you can begin to speed up development, reduce the costs of functional prototyping, and consider additive manufacturing for production.
Welding and Assembly of MJF Parts Webinar
Learn how to assemble 3D printed MJF parts with traditional plastic joining technologies.
3D Printed EOAT Webinar
Learn how to save cost and weight with 3D printed end of arm tooling.
Partner with us on your additive manufacturing journey.
Prototype
Design and Development Services
Contract Manufacturing
Extol has a unique blend of a human-centered-design (HCD) innovation process, plastic assembly & automation expertise, and additive manufacturing. Put together, this makes us the perfect partner to help you improve the way your plastic products are made.
Leverage our capabilities and expertise to develop high-value applications and transition to production.
We are positioned to serve world-class supply chains and progress the additive manufacturing industry by helping customers develop high-value applications as well as provide technology and automation that will empower a transition to production.
What our customers are saying about partnering with Extol…
"I've worked with others, and they can't compete with Extol's customer service and level of detail. They know what they are doing."
"Extol is different. They are NOT a service bureau. To be successful, this is the type of collaboration we need."
"I'm very impressed by the quality of these parts. We will definitely be sending them more work."
"Service bureaus have been difficult to work with.
Extol's collaboration is incredible."
Take one step closer to manufacturing the future!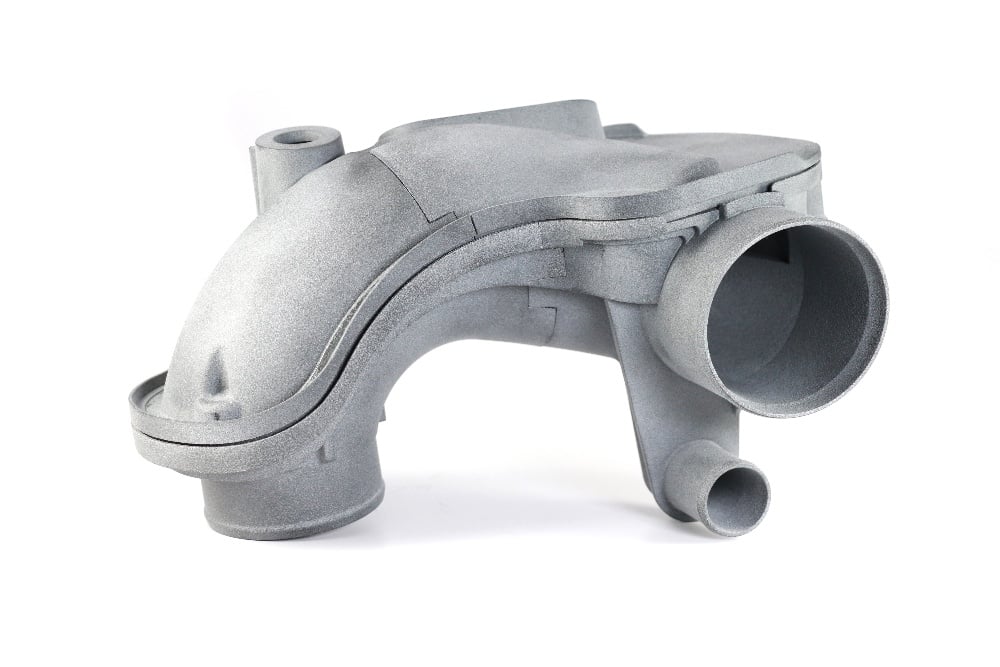 Guide to Assembling 3D Printed Plastics
Are you only using adhesives to assemble 3D printed plastics? Several other assembly methods can help you create more value with 3D printing.
Use our guide to learn how to assemble your 3D-printed plastic parts.
PP
HP Alpha Development Partner
Genuine PP that you know and love. Light-weight with toughness, fatigue strength, ductility, and chemical resistance.
BASF Ultrasint TPU
Versatile rubbery material that feels like a dream in your hands. 88A hardness with great flexibility and shock absorption. Design controlled durometer and stiffness through latticing.  High elasticity, tear resistant, and soft touch/non marking. Prints with high accuracy and detail. Ideal for vapor smoothing and Ultracur3D color coating.
PA12
The traditional workhorse of HP MJF materials. Strong and rigid with high density. Prints in the highest dimensional accuracy and detail.
Take advantage of the game-changing MJF 3D printing technology.
AMT PostPro3D Vapor Smoothing
Smooths surfaces to an injection molded quality.  Seals part from absorbing liquids and improves mechanical properties.
Black Dye
Transforms parts from natural grey to black for a more finished appearance.
Paint
Achieve the finished appearance that you desire.
BASF Ultracur3D Coat F
Flexible color coating for TPU parts. Custom colors available.
Splitting and Joining Large Parts
Make parts that are too large to fit in the printable area by printing in multiple pieces and gluing them together.
Welding and Assembly
Traditional plastic assembly processes like Hot Plate Welding, Laser Welding, and Staking to create functional, end-use assemblies.
Get functional prototype parts faster than ever before.
Whether you are not sure where to start, have an idea for a 3D printing application, or have experience launching additive manufacturing applications, let's work together to make your next application successful.
The Digital Development Program (DDP) is Extol's proven innovation process to develop high-value applications for 3D printing and transition them to production. Based on Human Centered Design, the DDP is a step-by-step development process that allows for agility and partnership that is required for bringing new innovations to life. 
Each manufacturing method (injection molding, extrusion, etc,) has specific requirements for design and manufacturing, and so does additive manufacturing. Additive manufacturing is a cutting-edge technology, and many applications are the first of their kind. This requires attention to the economic value proposition, systems thinking, and manufacturing scalability, which can only be done in partnership.
Here are the steps we take together as we walk through the DDP:
Discover – Understand context and systems and identify opportunities for 3D printing.
Define – Identify the economic value proposition and technical application requirements.
Develop – Design for additive manufacturing, prototype, and validate that the design meets the economic value proposition and application requirements.
Deliver – Prepare to scale and reduce the risk of a new manufacturing process by identifying critical quality characteristics and a plan to control them.
Let us help you make your next application successful.
The Most Advanced HP 3D Printers
Extol has (3) HP Multi-Jet Fusion (MJF) 5210 3D printers. These are the most advanced and fastest 3D printers available enabling us to support all the demands of digital development.
The HP Multi Jet Fusion Process
Read more about 3D printing at Extol.
3D printing a single rapid prototype is now the accepted best practice for engineering and product development. But what if you want to take the next step to create even more value? How do you find and develop successful applications for functional prototypes and production?
As volumes increase to 10's, 100's, and 1000's, the cost of 3D printing can become more difficult to justify. While it may take more effort, it also has the potential for a bigger payoff. Follow these 4 steps to unlock innovation and the full potential of 3D printing.
read more
Get a free quote.
Take one step closer to manufacturing the future!
Tell us about your application and request a quote. Whether you just need parts or you need help developing your application, we've got you covered.
Let us know what you need.